The first edition of the Bologna Boat Show has ended
BolognaFiere, which registered 22 thousand admissions, is aiming for 2021. The general manager Bruzzone alongside the organizers to carry out next year's edition
Bologna, 26 October 2020 – The balance of the first edition of the Bologna Boat Show records more than positive data. Sales were highlighted, but attendance numbers were also more than satisfactory. The commitment and determination of the president of the organizing company, Gennaro Amato, thus found confirmation and allowed small and medium-sized boats, those between 5 and 18 meters, to find, in such a difficult period, a visibility and a commercial positioning. guarantee for the future.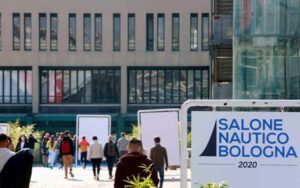 "The satisfaction of having found such a positive response, in such a difficult and nebulous time for all markets and boat shows, will allow us to be able to work on the 2021 edition with even greater commitment – declares the president of SNIDI, Gennaro Beloved -. The results make me proud for having focused on a city like Bologna, and an exhibition center like BolognaFiere, which many considered inappropriate choices. The affirmation of the first edition of the Bologna Boat Show (SNB) is the success of the shipyards that have followed and believed in risking with us, but which have brought home sales by conquering an important slice of the market in view of the near future ".
Quantity and quality went hand in hand at SNB. Sales at Rio, Italmar, Marine Site Nautica Allegra and Idea Marine demonstrate the public's interest in fiberglass boats in the motorboat and yacht sector. Yet the success and sales of Cantieri Mimì and Nautica Esposito, which represented the gozzo sector, indicate that visitors in Bologna have heterogeneous tastes and interests. There was no doubt that the inflatable boats, thanks to the sales recorded by Italiamarine, 2 Bar and SPX, were the first choice of the owners of Northern Italy, yet the data was higher than expected as well as among the accessories retailers present at the fair.
"The edition that has just ended, despite a not easy year, went well and we are happy with the work done together with the organizers – says the general manager of BolognaFiere, Antonio Bruzzone -. Exceeding the quota of 22 thousand presences demonstrates a response that leaves us satisfied even in the choice of having hosted an innovative sector for us which is that of boating. The double weekend formula is certainly a winner because it allows everyone to visit the show. From our analysis – concludes Bruzzone – we also find a high qualitative rate of participants which allows us, in the future, to hope for further growth in the exhibition that we are ready to support in preparing for the 2021 edition ".
PRESS OFFICE: Fabrizio Kühne 339 83.83.413 E. mail: comunicazione@fabriziokuhne.com